Ruckleigh School Roll of Honour 2021
Wednesday, 28 April 2021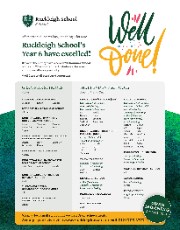 We are proud to share our full Year 6 Roll of Honour with you.
After a difficult year of lockdowns and uncertainty, our Year 6 pupils have achieved astounding results. Receiving 22 Grammar School offers and 23 scholarships, our pupils are moving on to the best schools in the region, with a fantastic academic foundation and a love for learning.
Well done to all our Year 6 superstars!
Wednesday, 28 April 2021